Back to consultants
Awovi A. S. Komassi
Consultant, EEM EHS Management inc. - LL.B., MEnv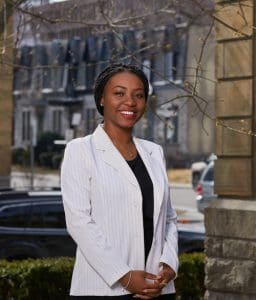 Awovi joined EEM in 2017 after completing a Master's degree in Environmental Management, which allowed her to develop management skills and a greater understanding of sustainable development concepts and sustainable business practices. Prior to joining EEM, Awovi honed her legal skills and understanding of EHS regulatory compliance at a global agrifood company in Accra (Ghana), at a Montreal-based technology and legal information company, and at an international manufacturer of recreational vehicles.
In addition to her training in environmental management, Awovi also holds a Bachelor of Laws. Throughout her academic and professional career, she has worked on a variety of projects including:
Environment, health and safety (EHS) management system implementation and maintenance.
Development of training in corporate environmental responsibility.
EHS policy development.
Analysis of legislative and regulatory changes in environment, health and safety (EHS) in provinces such as Alberta, British Colombia, Ontario, Manitoba and Quebec.
Sustainability analysis of the Plan Nord project of the Government of Quebec.
Environmental and Social Impact Assessment of a landfill project in Saint-Nicéphore.
Comparative market analysis for a Fruit Growers' Association.
Environmental, Governance and Social Issues in the Mining Industry in Ghana, DRC, Mali and South Africa.
Expertise
Environment, health and safety (EHS) management system implementation and maintenance.
EHS management system and legal compliance audits.
EHS regulatory assistance.
Challenges related to sustainable development issues.
Multi-criteria analysis of development projects
Accreditation and professional development
Qualified as an ISO 14001 and ISO 45001 lead auditor.
Junior certified environmental auditor – (Jr. CEA) – The Québec Association of Environmental Auditors
Spoken languages
French, English, Spanish (limited skills).
Education
MEnv. - Master's degree in environmental management, Université de Sherbrooke
LL.B. - Bachelor of Laws, Université du Quebec à Montreal