Back to consultants
Sowsen Khatib
Junior Consultant, EEM Environmental & Social Impact Ltd - B.Eng.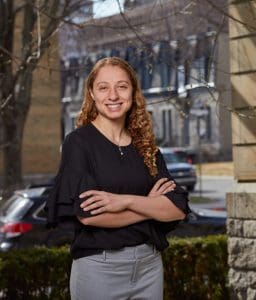 Sowsen is a McGill University graduate and holds a Bioresource Engineering degree. At ÉEM, her degree allows her to focus on water management consulting. Upon joining ÉEM, Sowsen has worked on several tasks including hydrological modeling with WMS Aquaveo, water quality analysis, AutoCAD floor plans of mine sites, and proposal drafting for future mines. Sowsen has also worked on the Resource Use and Energy Efficiency Management Plan for bauxite mine in Kamsar, Guinea.
Prior to joining ÉEM, Sowsen has worked for Bombardier Aerospace with diverse engineering teams such as the Bombardier Flight Test Center and In-Service Engineering Structure Team. Mandates varied from aircraft on ground support to revision of problem reports. In addition, throughout her time at McGill, Sowsen has been awarded the Natural Sciences and Engineering Research Council of Canada/Undergraduate Student Research Award. This led her to conduct her own research study which entailed of phosphorus concentration monitoring in response to precipitation.
Expertise
AutoCAD;
MATLAB;
Hydrological Modelling, WMS Aquaveo;
Proposal drafting;
Participation in Environmental Baseline studies.
Languages
English, French and Arabic
Education
B.Eng. - Bioresource Engineering, McGill University
sowsen@eem.ca