EEM is pleased to announce that it has signed a partnering agreement with Darzin, developers of an online stakeholder management software designed to structure and implement great stakeholder engagement processes.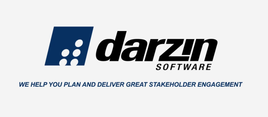 Stakeholder management software is becoming a key tool for companies looking to monitor their interactions with stakeholders, track stakeholder concerns and design focused community engagement and investment programs.
After evaluating leading stakeholder engagement softwares, EEM's Communities team chose Darzin as the most cost effective solution on the market.
Darzin's core functionalities include:
– A stakeholder contact database for people and organizations
– Records of all stakeholder engagement activities including meetings and correspondences
– A complaints management system
– Actions and follow-up tracking
– Reporting including key issues, summaries of interaction with key stakeholders and many more.
As part of its agreement with Darzin, EEM will provide training on the software as well as support businesses in customizing the software for their use  in their stakeholder engagement programmes. For more information, contact:
Robert Cole or
Thomas Adams at
514-481-3401