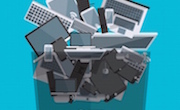 Electronic products are an integral part of our lives. Each year brings its share of new gadgets:  some helpful and some questionably so. While these devices are often an important part of our lives, they can quickly become obsolete. Whether it's a company renewing its IT equipment to make use of the latest software or individuals following fashion trends, enormous amounts of electronics end up as waste each year.
If not left at the back of a cupboard, outdated equipment can often find its way to landfill sites where it may gradually contaminate soil and groundwater with toxic metals. To prevent these devices from ending up in landfill sites and to ensure that they are not exported to countries with less stringent environmental or health and safety standards, environmental handling fees (EHF) were introduced in June 2011 under the Regulation on the recovery and reclamation of products by enterprises. The fees are charged at the time of purchase of all electronic products and are administered by EPRA (Electronic Products Recycling Association) to fund collection and recycling system.  Once collected, the waste electronics are sorted either to be reused or to be refurbished or recycled in Quebec.
To ensure that the devices are handled in an environmentally and socially responsible manner, the collection systems and the reuse, refurbishment and recycling facilities must all comply with the evaluation and certification programs set out by the Recycler Qualification Office (RQO), specifically:
– the Collection Sites Approval Program (CSAP),
– the Electronic Reuse & Refurbishing  Program (ERRP), and
– the Recycler Qualification Program (RQP).
If you're in the electronic recycling industry, EEM can help your organization to design and implement an environmental and health & safety management system that meets the requirements of the RQO.  The EEM team, recently bolstered by the addition of André Bernier, is also qualified to perform your internal system audits.