Back to consultants
Claude-Marie Côté
Consultant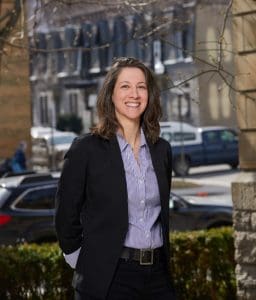 Claude-Marie is an EHS specialist with over 10 years' experience in health and safety management who joined EEM in 2017. She has done more than 1,200 site visits and audits as an external business consultant for several clients in various industry sectors including manufacturing, aerospace, recycling, construction and oil and gaz.
As a collaborator with CNESST inspectors she has developed a solid expertise in health and safety with respect to regulations, standards and to the expectations of regulatory authority. Her experience with behaviour-based safety system has led her to the development of several techniques to promote health and safety in the workplace and helping and motivating workers in the identification of hazards and control measures. She has facilitated cooperation between various stakeholders in the identification of tangible corrective actions to non-compliance findings. Her notable roles included:
Health and safety advisor for an aircraft engine manufacturer.
Eastern Canada health and safety advisor, Oil and Gas Division for an environmental engineering firm.
Quebec and Atlantic region health and safety coordinator for an environmental engineering firm.
Health and safety consultant for an occupational health and safety consultancy firm in Québec (Montréal, Montérégie and Abitibi-Témiscamingue).
Expertise
HS Risk mapping and analysis.
HS regulatory support.
HS system maintenance.
HS management system and legal compliance audits.
Remedial action identification and implementation.
Accident and incident investigations.
Behaviour-based safety system approach.
HS related training.
Accreditation and professional development
Qualified as an ISO 45001 auditor.
Languages
French and English
Education
Minor in Occupational Health and Safety - Université du Québec en Abitibi-Témiscamingue
BSc - Bachelor of Sciences specializing in Health and Safety, University of Montreal
claudemarie@eem.ca