Back to consultants
Mélanie Rousseau
Senior Consultant - MSc, CEA®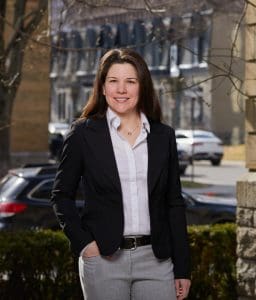 Since joining EEM in 2005, Mélanie has helped clients in various sectors implement and maintain environment, health and safety (EHS) management systems. She has also supported several clients comply with EHS legal requirements. She has extensive expertise with the Canadian environmental legislative framework and with the improvement of management system procedures.
She has also conducted numerous management system audits (to ISO standards and to corporate standards), gap analyses and legal compliance audits (in environment, health, safety, and railway safety) in Quebec, Ontario, Newfoundland and Labrador, Alberta, British Columbia, Saskatchewan, Manitoba, Prince Edward Island, and Nunavut. Mélanie has also performed Phase I environmental site assessments and environmental impact assessments for small businesses in northern Québec Cree communities, and participated in community engagement initiatives in remote northern locations.
Mélanie has worked for clients in the printing and publishing, energy, aerospace, mining, electronic product recycling, road and railway transport, real estate, production of rubber, semiconductor, health, pharmaceutical, construction, foundry, and flexible packaging industries.
Expertise
Environment, health and safety (EHS) management system implementation and maintenance.
EHS management system and legal compliance audits.
EHS risk assessments.
Regulatory assistance.
Accreditation and professional development
Certified environmental auditor (CEA®) – Association québécoise de vérification environnementale.
Qualified ISO 14001 and ISO 45001 lead auditor.
Verification Service Provider (VSP) for the Mining Association of Canada's Towards Sustainable Mining initiatives program.
Languages
French and English
Education
MSc – Master of Science in Fluvial Geomorphology, McGill University
BA – Bachelor of Arts, Specialization in Human Environment, Concordia University
melanie@eem.ca