Back to consultants
Meriem Raach
Consultant - MSc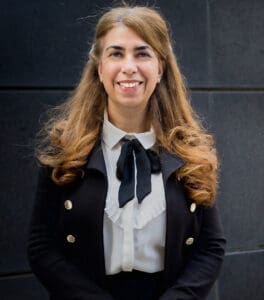 Meriem joined EEM in 2020, after accumulating several years of experience in regulatory compliance. After completing a bachelor's degree in environmental engineering in Tunisia, Meriem joined the Fisheries and Oceans research team at the Maurice Lamontagne Institute to carry out research studies on marine contamination. Then, Meriem has honed her skills in environmental management and occupational health and safety at Stornoway Diamonds and with Nimonik, where she was responsible for managing a regulatory database and monitoring and informing clients of legal changes in EHS before becoming Head of the Compliance Obligations Department. Throughout her academic and professional career, she has worked on a variety of projects including:
Implementation of environmental, social and health and safety management systems.
Establishment and maintenance of environmental and health and safety legal registers applicable to different industries including construction, mining, oil and gas, pharmaceutical, renewable energy as well as banks operating in North America, Australia, Asia and Europe.
Analysis of EHS related legislative and regulatory changes in Canada and the United States of America.
Identification of EHS regulatory requirements in laws and regulations and creation of audit protocols.
Management of EHS databases (IsoVision, Enablon, Nimonik).
Expertise
Elaboration and maintenance of EHS legal registers.
Analysis of EHS regulatory compliance / laws, regulations and standards.
Implementation, maintenance and audit of EHS management systems.
EHS compliance audits.
Accreditation and professional development
Qualified as an ISO 14001 and ISO 45001 lead auditor.
Verification Service Provider (VSP) for the Mining Association of Canada's Towards Sustainable Mining initiatives program.
Completed the ISO 14064-1 Essentials: Greenhouse Gas Inventories training offered by the CSA (Canadian Standards Association).
Languages
French and English
Education
DESS – Perfectionnement de l'environnement, Université de Sherbrooke
M.Sc. – Maîtrise en océanographie, Université du Québec à Rimouski
B.ing. – Génie de l'Environnement, Institut National Agronomique de Tunisie
meriem@eem.ca